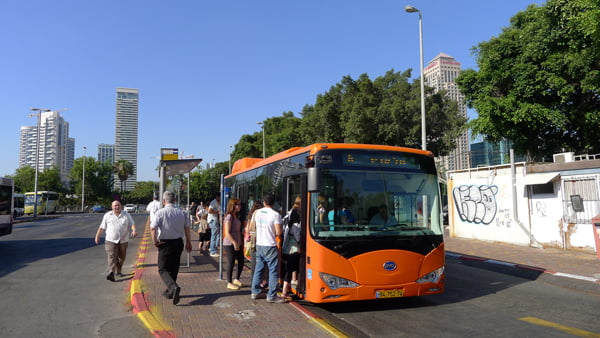 Beginning on Tuesday morning, passengers traveling on Dan's Number 5 bus line in Tel Aviv may suddenly encounter a much quieter and cleaner ride, aboard the country's first fully electric bus.
The vibrantly orange bus, produced by Chinese firm BYD and imported to Israel through Clal Motors, is a low-floor city vehicle about 12 meters long with a driving range of about 250 miles, according to Dan. This lengthy lifespan allows for most urban buses to travel a day's routes without requiring a recharge, the company said. Recharging at night in Dan parking lots, the bus battery requires only about four to five hours to achieve full capacity.
Related articles
"Today begins a new era in the vision of public transportation," said Dan chairman Michael Nagar and CEO Shmuel Rafaeli in a joint statement at a Tel Aviv launch ceremony for the bus on Monday.
 "The experience of a quiet and comfortable ride on an electric bus revolutionizes the customer experience, and we intend to enable this experience for all Dan passengers across Israel."
Dan aims to upgrade 25 percent of its fleet with electric buses within five years, an investment that will cost about NIS 400 million. The maintenance of electric buses, however, costs about 25 percent less than the maintenance of the diesel buses dominating Israel's public transportation sector today, the company said. Meanwhile, the energy cost per mile while operating an electric bus is about a third of the costs associated with the fuel necessary for the same diesel-powered journey.
BYD's technology incorporates a lithium iron phosphate battery adapted for electrical vehicle use, and the company manufactures the batteries in an environmentally friendly manner that does not involve heavy metals or other toxic substances, information from the companies said. The battery lasts for up to 6,000 cycles, and the battery and its charger together cost about $400,000. Operating on an alternating current, the battery is able to plug directly into the national electricity grid if necessary, the technical data explained.
…
To continue reading this story, click here.
Via The Jerusalem Post
Photo: BYD
Related posts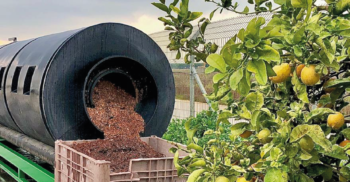 Compost Drum Turning Muck Into Money, Shrinking Israeli Landfills
September 19, 2023