Many of the frustrations that come from living in big cities are ultimately tied to our vehicles. Dirty and dusty air, foggy skies, crowded streets, fights over parking spots and traffic jams can all damper our moods.
For many, other methods of personal transportation, such as bicycles and Segways, have become preferred solutions. Taking easy transportation into a new direction, Israeli-native Amir Zaid invented a personal transportation vehicle called MUVe that picks up where the Segway and the electric scooter left off.
Related articles
The MUVe is basically a scooter that can fold into a trolley, making it an optimal vehicle for urban transport.
Using smaller vehicles to make room in the big city
Zaid began thinking about altering personal transportation while he studied and worked as an automobile designer in Italy. Living in Milan and working in Turin for big names like Ferrari, Fiat and Pininfarina, Zaid commuted a total of seven hours every day, with most of his time spent stuck in big-city traffic. Despite his love for cars, and nice ones at that, Zaid realized that personal and portable methods of transportation could possibly eliminate the need for large vehicles in the urban setting, taking the traffic jams with them.
Fast forward one year, and Ziad was creating a prototype for MUVe with familiar tools from the automobile industry. "Traveling inside highly-populated urban areas is very difficult and complicated, wasting lots of time and money. Basically, I wanted to create a simple method of transportation that people can carry with them from place to place," Ziad tells NoCamels.
MUVe's potential edge over other personal transportation methods would be its portability factor. Segways, at 50 kg, are rather bulky and not cheap, "nearly the price of a small car", as Zaid put it, while electric bicycles and scooters are also heavy and can only be awkwardly folded into cartable forms.
The MUVe can be folded into a trolley, with a foldable third back wheel for added stability and will weigh between 12-15 kg. Zaid says the MUVe will cost about $2,000- $3,000 once it hits the market. The battery pack will be fitted with a standard 110- or 220-volt plug, depending on the country where it's sold.
Sign up for our free weekly newsletter
Subscribe
Currently, there is a prototype for a basic model with a personalized exterior and battery power (according to Zaid, urban travelers only really need enough for 15 kilometers a day), but an updated vehicle, with a cellular controlled mechanism is already in the works.
"Cars are irrelevant"
Zaid's goal for MUVe is to change the way people move and get around cities, "I love cars, and I studied car design, but today in big cities, cars are irrelevant and they are not suitable for urban transportation." Although the most obvious use is for commuter transportation, Zaid believes that even mailmen, factory and airport workers will be able to use the MUVevehicle to whiz around on their jobs. Zaid says there is also an off-road version of the vehicle already in the works.
Over the past year and a half, the dream of MUVe has quickly become a reality, and Zaid believes that the basic prototype will be up and running in two weeks' time. The vehicle will be tested on the streets of Israel's cities, but Zaid hopes that it will quickly move to the United States, Europe and South America. muvE's challenges are considerable, however and will include having to pass the personal transportation safety standards in every country.
A finalized product by the end of 2013
Unlike Segway, Zaid does not see himself opening up exclusive retail outlets in every market, but rather encouraging the assembly of the MUVe vehicles in the country. As Zaid puts it, "we do not intend to be a manufacturing firm, we do not want to invest in factories and direct sales. We intend to focus only on research and development, and have the vehicles assembled in every market."
The funding for MUVe's venture currently comes mostly out of Zaid and other employees' pockets, but they are  looking for the right partners to finalize their products by the end of 2013.
Photos: courtesy
Related posts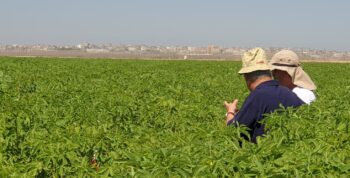 'We Keep Going': Cleantech Firm Resolute After Hamas Horror
November 05, 2023