Our smartphones are so sophisticated in so many aspects that it's surprising to realize that our contact lists (one of the primary purposes for mobile phones) have barely changed over time. On the other hand, the internet has provided us with so many new types of contact lists (Facebook, Gmail, Twitter, LinkedIn etc.) that it gets hard to remember who we connect with on what network.
Sync.ME wants to break the dreary ritual of having to add the same person on all your contact lists one by one with a solution that synchronizes all your social network contact information displayed on your smartphone's contact list.
After presenting the application at Barcelona's Mobile World Congress 2012, Mike Butcher from Techcrunch described it in an article as nothing less than "the app that turns you into a God."
Related articles
Real-time information on whoever's calling you
The project is led by CEO Shlomo Unger and Ken Vinner, founder and CTO. The idea started with Ken Vinner, who, having just finished his service in the army, came up with what might seem a trivial whim: He wanted a simple way to add photos to all of his phone contacts. He then decided to develop an application which would synchronize his phone's contact list with his Facebook friend list. At the time, he tells NoCamels, he never thought that the product would reach the magnitude it now has, not to mention the goals that Sync.ME's team are currently chasing.
[youtuber youtube='http://www.youtube.com/watch?v=KBbRG5gONaU']
Vinner's idea has grown to become an iPhone application with more than five million downloads. The idea of synchronizing Facebook with the phone's contact book has been optimized so that now when somebody calls you, you don't only get the caller's Facebook picture, but also the latest status updates and any other information the caller decides to share with you.
According to Vinner, "people loved the pictures and statuses but the function users have been most grateful for has been the birthday reminders." Having just raised a $4 million investment round from undisclosed private investors, the company aims to broaden the product's reach.
Firstly, with the release of its Android version and secondly, by synchronizing the app with other social networks such as LinkedIn. According to Vinner, this turns the app from a purely social one — knowing what the person who's calling you just wrote on Facebook —  to a professional one, by enabling users to read people's abbreviated CVs while the phone rings.
Sign up for our free weekly newsletter
Subscribe
"Eventually, we'll have a perfect matrix between all the mobile devices on earth and social network information," is Shlomo Unger's ambitious claim. "We'll be the only company who'll hold the perfect index between all business and private phone numbers and social network identities. When you have all the information on Facebook, Twitter, LinkedIn and Google+ on your contact list, when someone calls you, you will be able to see all the information they've chosen to share with you on these networks."
Expanding the target market
The application's Android version was released on November 28, the day Sync.ME invited NoCamels to their office in Tel Aviv. Nier Segev, developer of the Android app, invited me to review the beta testing version. Despite some small navigation and synchronization glitches that still needed resolving, the app was attractive and user-friendly. It still has quite a long way to go before reaching the iPhone version's level, but it seems to be on the right track.
Sync.ME says their key to be seen as a professional service is the MeCard, a digital identity card that will be incorporated into the Sync.ME app, and will hold and update all your contact and social network's public information.
So no more having to send hundreds of SMS or private Facebook messages to let all of your contacts know they've got to manually change your contact information, says Unger. Once you update your data on your Sync.ME account, all your information updates automatically on your contact's phones. Also, you won't even need to update your MeCard all the time, Unger proudly adds. It grabs all the information you've decided to make public from social networks and displays it on your card.
Adding businesses to the mix
Other future projects include connecting with services like Yelp (a local business directory based on social networking). That way, says Unger, if you're called by an unknown number, instead of answering and having to deal with a company trying to sell you something, you could first do a reverse look up and have Sync.ME display on your screen who it is that's calling you. This would only work with public enterprises, though, since disclosing private phone numbers is illegal.
Finally, the creators also mentioned toying with the idea of creating a flip board on the screen, which would enable the user to flip through the caller's social networks during the phone conversation. Sync.ME also hopes, after the success of the birthday reminders, to include a birthday card creator, so that you can personalize and send e-cards after receiving the Facebook birthday reminder.
Photo by Sync.ME
Related posts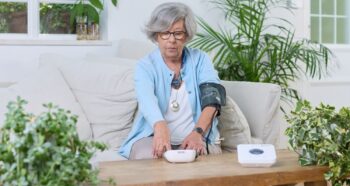 Smart Healthcare System Keeps Elderly At Home, Not In Hospital
November 29, 2023