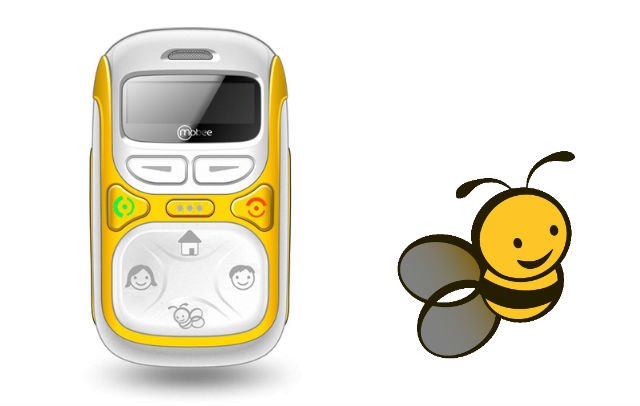 As much as you try to resist, if you have a child around the ages of six to 10, it's hard not to equip them with a cellphone when they leave the house. We know it, the kids know it – and you also know that it's the only way to have peace of mind when your kids aren't near you.
But which phone should we purchase for our kids? Should we buy a top-of-the-line smartphone, which is expensive, complicated, and moreover, could keep children distracted with its many apps? Or should we buy an overly simple, plain cellphone that will bore/embarrass our child? The perfect solution could be an Israeli development called Mobee: a cellphone designed for kids.
Mobee is a completely ordinary cellphone, yet it's different than everything we know today. It doesn't have a standard keypad, no touchscreen, doesn't support apps (god forbid) and doesn't even enable the user to text-message. Instead of all of the above (and other features available on other phones), Mobee offers (only) four stored contacts, which are accessible via four icons on the phone's unique keypad (dad, mom, home and an additional contact).
Related articles

Maximum peace of mind – minimal expenses
The Idea is to allow the user (a child) to be in touch with a limited number of contacts, using a quick and easy dialing system, in order to allow them to instantly contact someone, without giving them the option of wasting their time (or parents' money), on unnecessary phone calls to other numbers. However, Mobee can receive calls and text messages from any number.
Mobee has a disconnect/on/off key, a dial/pickup key, a panic button and a navigation/keypad lock button. One can easily say that for such a simple phone its buttons are plentiful, but from the writer's experience (and his 5 year old niece), it takes no longer than 3 minutes to figure out which is which.
The devices' screen is also quite simple, and it displays reception levels, the time, the date, battery-power remaining and the network's name. Other than that, Mobee is simply a good looking, well-built and exceptionally small-measured device. When it's just lying on the table, anyone who sees it (children and adults alike), cannot stop admiring how cool it looks.
Not an "iPhone killer"
So what's it like in action? When reviewing a cellphone that is known to be the complete opposite of any smartphone we've seen in the past few years, one needs to reduce their expectations to a minimum and start keeping score from there. Mobee was not created to transform the cellular market or compete with the popular iPhone or Galaxy devices – it was created as a perfect solution for parents who want a good, affordable means of communication with their children, while ensuring that it's durable, simple to use and that the kids think it looks good.
Sign up for our free weekly newsletter
Subscribe
After programming the four desired contacts on the phone (either through Mobee's website or through sending a special text containing the desired numbers to the phone), all the child needs to do is to press one of the four icons in order to call a contact. There's no need to press the "send" button and there's no fear of the phone dialing a number by accident, since the keypad can be locked.
While using the phone quite intensively over a few days, the writer was very impressed with the battery power (one charge in three days) and the audio quality (very good). However, in terms of daily functionality, the writer would have been more pleased if it were easier to put the phone on "silent" (vibrate) mode, rather than having to scroll through the menu to find the setting.
Mobee has two more pleasing features. The first is a panic button. When pressing it, the phone will ask the user's permission to send an emergency text to all 4 contacts. The other feature is a monitor feature, which allows parents to call the device using a special text message and listen in on anything that's happening around their child. Both features work just as they should, without any difficulty.
The bottom line: perfect and affordable
Since the "Mango" device introduced in Israel in the late 90's, there hasn't been a spot-on solution for young cellphone users – until Mobee. The writer says that he would have made minor adjustments to the device, but was overall extremely impressed. Unfortunately, Mobee only comes in one color and design, a fact that might make it difficult for your children to differentiate their phone from other kids'.
Even though Mobbe's target audience is children, it could just as easily be a perfect solution for elderly people who have trouble operating even the simplest cellphones available today. In addition to Mobee's technical and functional features, price is also a factor. Mobee is very reasonably priced at $113 (449 NIS) (though it only comes with a 6 month warranty), and can currently only be purchased on the company's website.
The device supports only standard 2nd generation SIM cards (which are not supported on the Pelephone network) and is open to all SIM cards. Mobee has a collaboration with the Home-Cellular network (but users can choose whichever network they want), which offers Mobee owners a package that includes a fee of 19 cents per minute, 19 cents per text message, a monthly fee of 5.9 NIS and a one-time payment of 15 NIS for the SIM card.
Another point to note is the device's radiation levels. According to the manufacturer, Mobee emits a radiation level of 0.939W/kg, which is significantly lower than the maximum standard of 2W/kg. However, it is important to stress that there is no current proof of cellular radiation affecting human health.
…
To continue reading this article in Hebrew, click here.
This article was first published on Feeder
Photo from mobee-cell.com
Related posts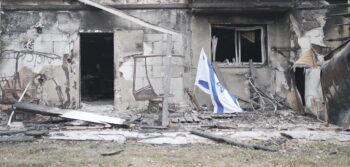 Israeli 'See The Truth' Chatbot Fights Deniers Of Hamas Massacre
November 28, 2023