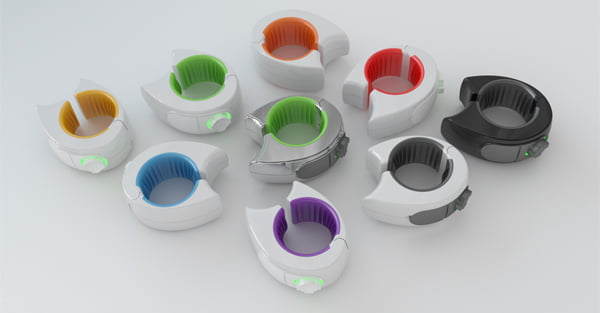 Mobile technology, as it advanced towards touch screens, almost entirely backed away from keyboard dependency.
But according to the Israeli venture Ringbow, a new Kickstarter project, there are additional ways to experience our devices– and that is why they deliver an accessory for touch screen that could add even more functionality than the touch of our hands.
Ringbow is a wearable ring that adds a hand-gesture interface to touch screen devices. It is worn on the index finger and has a directional-control pad that is operated by the thumb. Using Bluetooth, the ring can communicate wirelessly with Android iOS devices.
Related Stories:

The directional pad, or D-pad, offers nine directions of motion as well as the ability to click. Instead of just a finger touching the screen, users also have mouse- and joystick-like capabilities with the thumb-controlled D-pad.
Changing the mobile gaming world?
According to Chief Innovator Saar Shai and CEO Efrat Barit, the duo behind Ringbow, this adds a new layer of functionality to the touch screen experience. "Ringbow also adds depth to games, allowing new gameplay mechanics such as environmental interaction, special skills like simultaneous control and also transforming your device into a multiplayer platform where you can play with your friends, compete against them, and share the excitement of the experience," Shai explains in the duo's Kickstarter video.
[youtube]http://www.youtube.com/watch?v=rae8uIA86_s[/youtube]
He adds: "Game designers will use the Ringbow platform to unleash their creativity and design new games, but also take their existing games to new heights by adding new features and layers of interactivity."
Ringbow works in conjunction with the touch screen, enhancing its ordinary features. It weighs less than 200 g and its battery charges with a simple USB cable, for up to six hours of play.
Sign up for our free weekly newsletter
Subscribe
So when is it used? Imagine your average click-and-shoot game: with your finger on the screen you control your character's movement and with your thumb on the Ringbow's D-pad you can shoot. Alternatively, imagine being mid-text message, finding a typo and now having the arrow-key capabilities of a keyboard to go back character-by-character and fix your typo as you would on a computer. You can also operate your phone hands-free while driving, skip songs from a distance, or take a group picture remotely so that you can be in it as well.
"Ringbow is the world's first touch-screen gaming accessory that enhances the way we use our devices. It is designed to complete the interaction between user and device and provide us with intuitive, efficient, and fun features to make our touch experience even better," Barit believes.
[youtube]http://www.youtube.com/watch?v=4UYh52ChYGg[/youtube]
'KickStarter' funding  
It was founded in 2009 by Shai and Barit, who have been researching the concept of Ringbow and developing the product for the last two years. They have built a number of working prototypes in a variety of ergonomic designs, conducted a commercial pilot with AT&T and recently completed the final Ringbow design.
This year, the two sought to raise an initial funding of $100,000 via KickStarter. They exceeded their goal this month, with nearly 2,300 backers and $135,000 in funding.
Ringbow also partnered with game developers to create a package of games made specifically for Ringbow and made their API available as a part of their developer's package, so that developers can make their apps compatible with the device.
According to the duo, they are now ready to start mass production of the ring – while first delivering it to their KickStarter backers around the world.
Related posts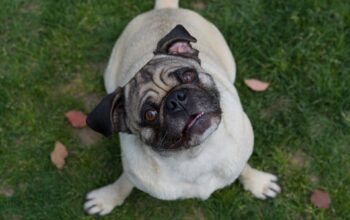 AI Doggie Doctor Diagnoses Breathing Problems In Pugs & Boxers
December 10, 2023