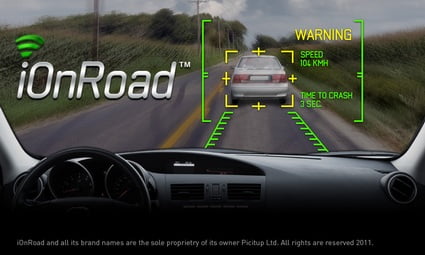 An Israeli company is trying to prove that augmented reality is not only the premise of video games, it can also save lives. iOnRoad is a new mobile application, developed by Picitup, that is "helping smartphone users make smarter driving decisions" by using a phone's camera and GPS.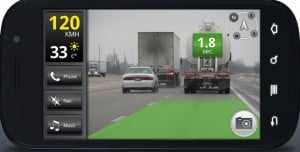 When a mobile device is placed on the front wind shield, like a standard GPS device, the iOnRoad's algorithm detects the driver's lane and objects in front of it – including the distance between the cars in seconds (meaning, how much time the driver will need to to brake at his current speed in order to avoid collision). If the distance is too close, the system informs the driver.
iOnRoad uses the smartphone's camera and GPS to determine the speed at which the car is moving, the speed of the car ahead of it and the distance between the cars. It then calculates the time required to brake in case of emergency and translates that into simple warnings: "Careful" if you're getting too close to the car ahead of you, or "Warning" if you're getting dangerously close. The application uses both visual and auditory warnings, thus improving the driver's alertness.
[youtube]http://www.youtube.com/watch?v=SOXKegvSN5U[/youtube]
The application can be configured to launch automatically when the phone is mounted in the car, or launched manually when the driver chooses to use it.
At present, the application cannot differentiate between weather conditions, but Picitup is considering integrating forecast information with extra caution tips and additional calculations for different weather conditions in a future version.
iOnRoad is currently available only for a number of Android devices and can be download as an .apk here, and the company is working on making it available for more devices, including iPhone.
Alon Atzmon, CEO of Picitup, said at the 2011 Israel Mobile Summit that "a life-saving system such as ours was available until now only for the wealthy. Now we can provide it for any smartphone user, for free. We continue developing additional layers that will increase safety like lane deviation and even real-time free parking spaces map."
The company won the prize for best mobile-based startup at the summit, beating 24 other startups. The jury consisted of executives from AT&T, PayPal, BlackBerry and international investors. The prize was given according to three categories: innovation, technology and business model.
Related posts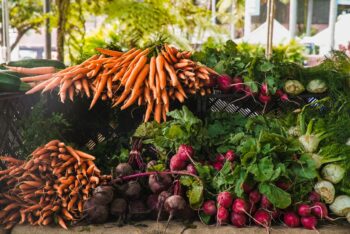 A Cybersecurity Approach To Cutting Food Waste
September 28, 2023