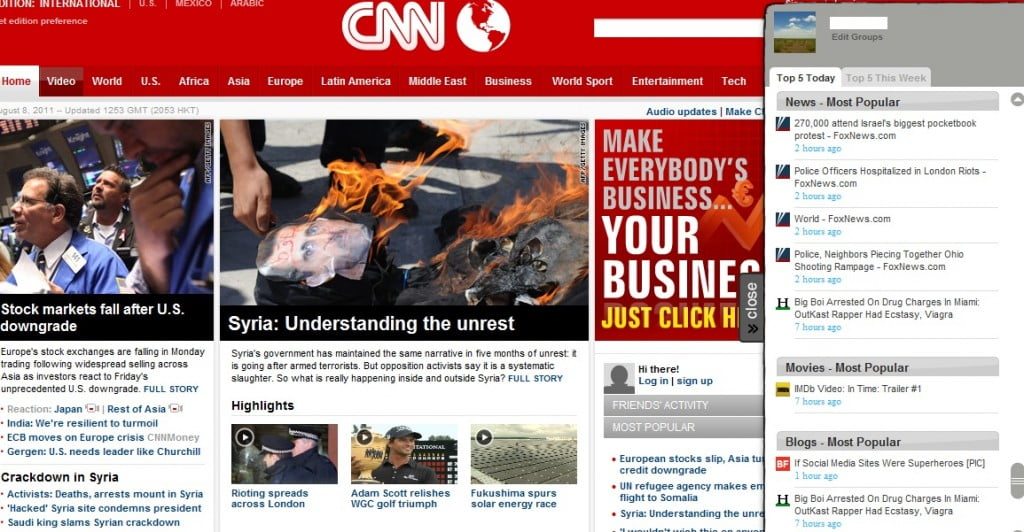 Imagine you have just started working in a new part of town. Your hours are long and you are likely to eat breakfast, lunch and dinner in the area. But there are, for the sake of argument, thousands of restaurants around. How do you even start finding the ones you like? Would it make it easier if you spotted some colleagues or friends in some of the restaurants?
Ziv Jonas believes it would. He also  believes that for most of us, the web is a similarly daunting place that has too big a supply of websites and information for us ever to find the few websites we would really love to visit. That is why Jonas co-founded Hiplight, a browser add-on that lets you see what  has been most visited by people in your group of friends or similar-minded people.
"The web right now is two-dimensional- you can't tell how popular and relevant for you a page is," said Jonas. The service works with over 500 websites -each site is manually checked by Hiplight to ensure quality of content and safe browsing. Among those sites, links or pages that were viewed by your friends and "neighbors" are highlighted- when hovering over a highlighted link you'll see how many people visited that page, but not who exactly. Hiplight is anonymous, providing a statistics-based service within your selected groups.
The add-on is available for Chrome and FIrefox, soon to be available for Explorer and Safari. After downloading the add-on, you will be asked to connect with your Facebook account. The add-on will use your account's city, country and school(s) as the first groups that share content between them. Music, movies, blogs and news are also default groups. More groups can be added- social circles and interest based topics.
[youtube]http://www.youtube.com/watch?v=HLiB7QI-XoY[/youtube]
The second feature incorporated in Hiplight is the sidebar. It is divided into different tabs for different groups, showing the top 5 links, articles, videos, etc. No more top 5 editorial recommendations, but content that interests people that are similar to you. The groups are dynamic and can be changed. There's a minimum of 3 people per group, to keep a certain anonymity level.
Jonas calls this type of sharing "passive sharing". "The percentage of content people share on their Facebook wall is small compared to the actual amount of content they consume every day," he told NoCamels. "They don't click on the share button all the time. Our service does not have that button." The add-on shows the hottest and most popular pieces of internet right now, again- with the stamp of people you share interest with and are like you in certain ways.
For example, if you choose graphic design to be one of your fields of interest, the feed in the sidebar will consist of graphic design-related websites visited by people in the graphic design group. If the people in the group visit other websites that are not relevant, they will not appear – only things in that certain topic. The added value in the add-on is very important to the team.
"We focus now more on niche blogs and websites, and not Alexa's (a websites that ranks website by popularity, traffic and other statistics- A.M.) top 5 websites. We want to help the users find content that is really suitable for them, expose them to new websites that have interesting bits in them," explains Jonas. That is a great option for bloggers as well- increasing their websites traffic and potentially content. Websites that want to be in Hiplight's website list can contact them via the site.
The open beta version has been running for several weeks with hundreds of users from over 60 countries. "The feedback we got for the users in the closed beta version were very good, they wanted to connect via more social networks- Google+, Twitter, etc. The music tab was really successful as well so we will work on enriching it," Jonas said. Another future feature will be a dedicated layer for social activity on different sites that will enable higher customization
Related posts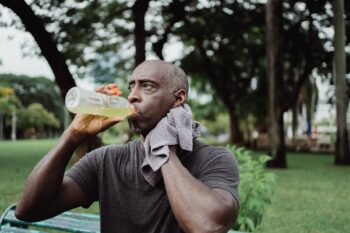 Startup Helping You Get Heart Healthy By Measuring Your Sweat
December 04, 2023