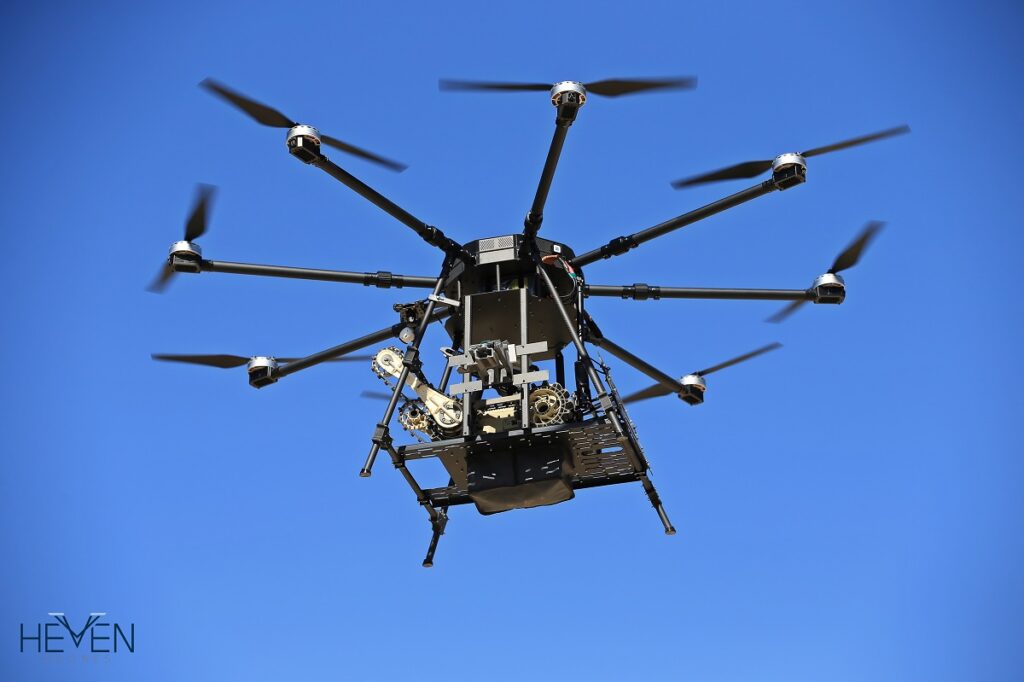 Drones have become more than just flying cameras and sensor systems — disrupting industries such as defense, construction, and even food delivery.
Israeli startup Heven Drones, a firm creating actionable drone platforms, develops solutions that aim to create core technologies to make drones capable of completing a number of other tasks, while remaining easy to use.
Now, the company has unveiled what it says is the first-ever flying robot.
The robotic solution was developed in partnership with Roboteam, an Israel-based global provider of tactical ground robotic systems. It was first revealed at ISDEF, Israel's largest international defense, HLS and cyber expo, in March.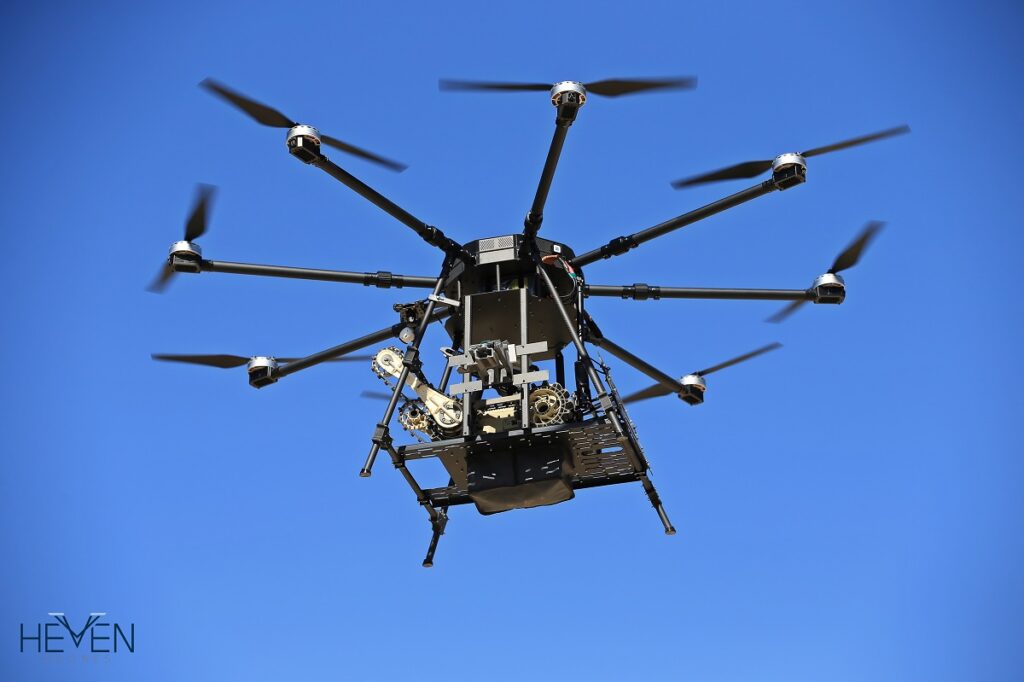 "A drone is an autonomous aerial vehicle that is very useful for a variety of tasks. But the end goal is going to be an autonomous ecosystem where drones acting as flying robots are going to be working with land robots. There are many scenarios where going by sky is more efficient, and there are many scenarios where working from the ground is more efficient. Being able to combine these two capabilities, land robots and flying robots, into one integrated solution, is at the end of the day being able to do any tasks needed in an autonomous manner. It's a unique, one-of-a-kind, complete solution," Bentzion Levinson, CEO and Co-founder of Heven Drones, tells NoCamels.
The joint development combines the Heven Drones H100 Robo with Roboteam's Micro Tactical Ground Robot (MTGR) for a solution that brings together both working together to reflect "an important milestone that gauges this autonomous future we're all excited to get to," says Levinson. The partnership came about through a mutual customer of both companies.
The integrated solution can go over water, get in and out of dangerous areas, and land on a roof, he adds, but the "end goal" is for the integrated solution to make the decision autonomously — that is, the flying robot can decide what is the best way to complete the task (from the air or the ground.)
"So if you have a drone delivering a package to a building – How is the package getting to someone's office on the 30th floor? The answer is drones that work with land robots that can navigate in buildings. Or with the future of agriculture, for example, the future is going to be many robots- both from the sky and on the ground working together to farm our fields autonomously" he says.
Sign up for our free weekly newsletter
Subscribe
How does it work?
The drone has the ability to lift significant weights of at least 70lbs using Heven Drones' patent-pending stability mechanism that enables drones to carry heavier, more uneven payloads for a significant period of time. The robot has its own specific capabilities. In order to complete a mission, the two are connected through hardware, which allows the drone to carry the robot, software, which controls and operates the solution, and a communication link. Communications are one of the solution's biggest challenges, according to Levinson.
"You can imagine that if the robot is operating in a city, there are big buildings that disturb the communication," Levinson explains, "Having one communication link between a drone and a robot makes the robot a lot more efficient."
Actionable drone solutions
Heven Drones was founded in 2019 because Levinson and his co-founder Dudu Parpara, current CTO, realized that if they can develop the core technology that will allow drones to do more, "just about every industry out there" can be disrupted by drones.
"We identified that the defense & HLS (homeland security) market is the ripest market for disruption by 'actionable' drones. There are many actionable use cases, and a lot less regulatory constraints," he says, "On the other hand, the commercial world is slowly starting to use more and more drones. If you look at the construction world, drones are being used to map construction sites and follow the progress. Of course, if you look at the consumer world and the video world — we see drones flying all over."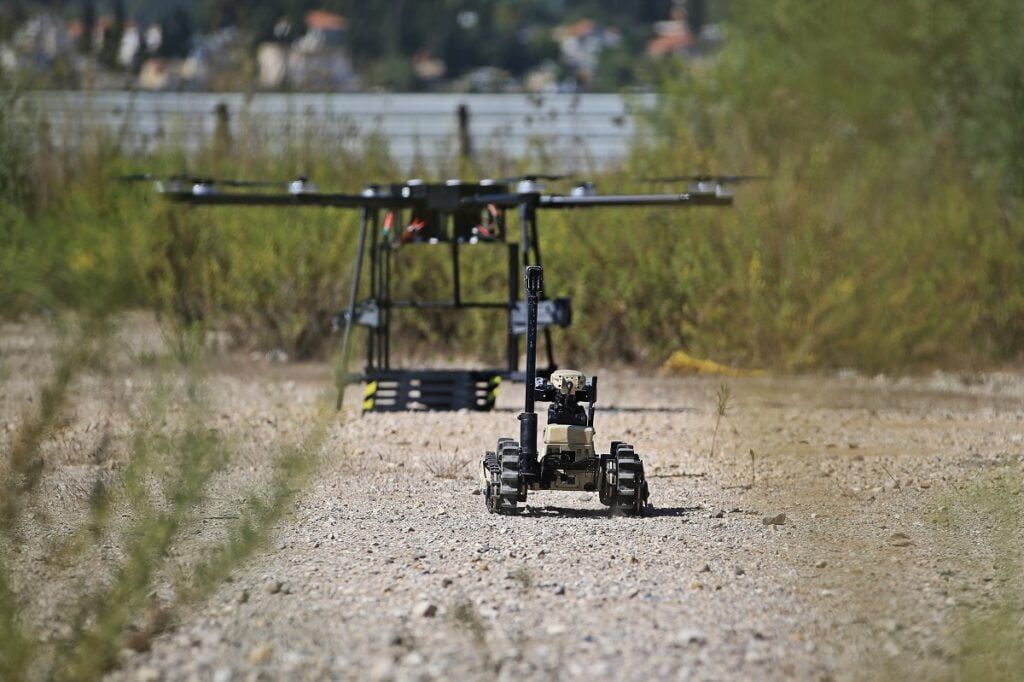 The company recently launched its production facility in the Mevo Carmel Industrial Park with the ability to provide drones at a mass scale – ("We have the capacity to produce over 200 drones a month, which essentially makes us the largest producer of drones in Israel," Levinson says.")
When asked when a fully integrated autonomous solution would be available, Levinson tells NoCamels that they are "somewhat limited" by current regulation policies to give an estimate or time period, although he did say "definitely in the coming years." The Federal Aviation Administration's (FAA) rules currently state that those who fly drones must keep them in visual line of sight at all times. Exceptions are made for commercial drone pilots who can apply for a certain waiver, or emergency situations.
The company "is not about evolution, it's really the revolution of autonomous drones working as flying robots solving day-to-day problems. We started off with drone use-case where we add significant value in the current environment and continue to disrupt more industries with the advantages of autonomous flying robots " Levinson says.
Related posts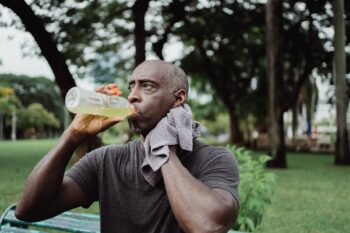 Startup Helping You Get Heart Healthy By Measuring Your Sweat
December 04, 2023