Some 50,000 Israelis are currently in quarantine with a majority of the rest of the population practicing social distancing, caring for kids out of daycares and schools, and trying to get the hang of the Health Ministry's changing directives — which include staying home, limiting contact, and being at least two meters away from the next person if they are out.
Hours and days at home have many capitulating to Netflix or mindlessly scrolling social media while attempting to keep children busy.
While museums, clubs, and other recreational establishments have also closed, they've made a dedicated effort to stay on the radar, not only to connect with their patrons but also to offer those cooped up at home some options amidst a harsher reality.
NoCamels highlights six of these institutions, programs, apps, and courses and how they're helping to offer comfort and entertainment and infuse culture into Israel's new normal.
The Israel Museum, Jerusalem
Google Arts & Culture has partnered with over 500 museums and galleries to feature virtual tours and online exhibits from the most famous museums around the world.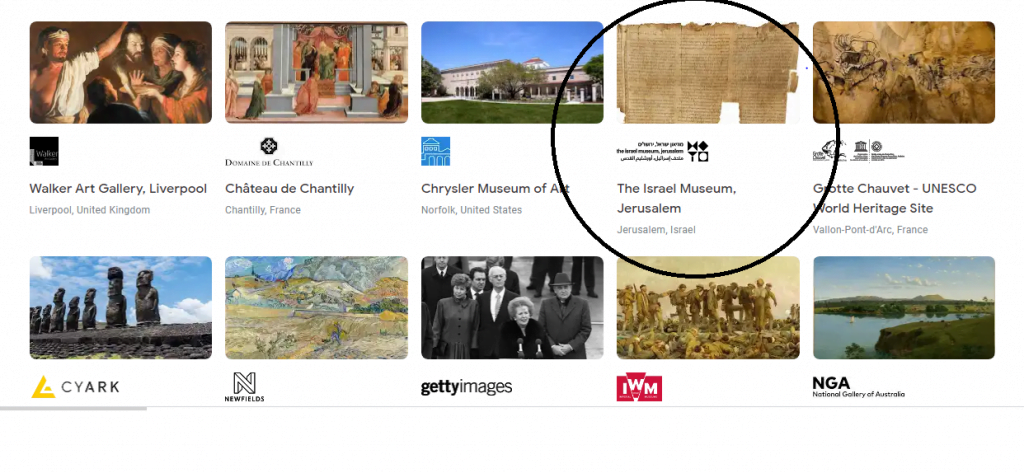 Among prestigious names such as New York's Metropolitan Museum of Art and Amsterdam's Van Gogh Museum, is The Israel Museum in Jerusalem. Google's platform gives a detailed description of the museum — perhaps best known for housing the Dead Sea Scrolls — and allows viewers to experience virtual reality tours from the museum.
The museum offers one online exhibit called "Questions of Identity," as part of the platform, featuring historical costumes from the museum's collection. It also has galleries made up of paintings of Israel, sculptures, ceramics, and more.
NoCamels spoke to Professor Ido Bruno, Anne and Jerome Fisher Director of the museum, about other virtual projects on the agenda now that most tourists have left the country (Prof. Bruno said they made up 50 percent of the visitors) and residents are staying home.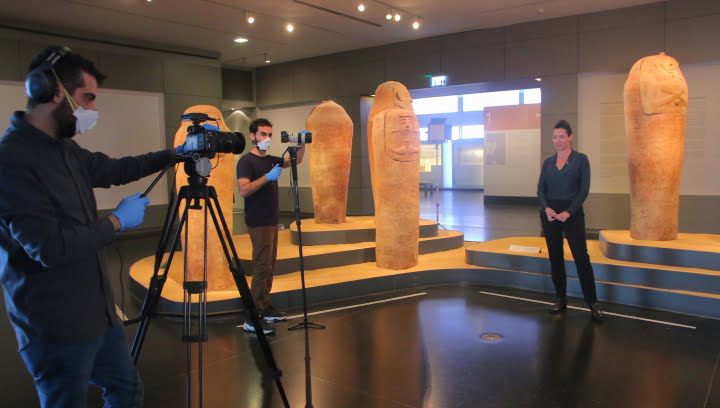 "We are looking at opportunities for what to do in this situation," Prof. Bruno tells NoCamels, "One of them is to augment our remote facilities."
Alongside the museum's official website, which features descriptions of all the exhibits in the museum as well as galleries of permanent collections, the staff is in the midst of creating a mini-website devoted to interactive live broadcasts, new formats of virtual tours (self-guided and guided), and innovative ways to present material from the museum including discussions with curators, artists or professionals from the museum's laboratories involved in the extensive restoration of the Dead Sea Scrolls and other projects.
SEE ALSO: Israel To Shutter Schools, Universities As Fear Mount Over Coronavirus Spread
Members of the staff have been filming at recently opened exhibitions, which the public has not had a chance to see due to the coronavirus outbreak. The filming, conducted in accordance with the Ministry of Health's directives, is aimed at bringing the exhibits to the public through remote viewing and online access to all of the museum's contents.
Professor Bruno says to expect the launch of this additional website in the coming days.
Tower of David Museum
Jerusalem's Tower of David Museum was set to launch an immersive VR and AR gaming experience at their location in the heart of the Old City next week. It was a project they had been working on for two years. But alas, the spread of COVID-19 has thrown Israel for a loop and all of the country's museums, including this one, have closed.
In cooperation with Blimey TV, the extended reality (XR/VR/AR) and 360 production studio housed in the museum, and OccupiedVR, a Canadian full-service VR/AR/XR production house, as well as the TOD Innovation Lab, and in what the TOD museum calls "the most complex volumetric VR project produced in Jerusalem to date," the viewer can now "travel" to Jerusalem from his own home. This virtual reality documentary, dubbed The Holy City, portrays Jerusalem's Old City through a transcendent stereoscopic 360 degrees.
"For the first time, the holiest sites of Jerusalem have been captured using both volumetric scanning, and Stereo 360 VR filming. In the most complex volumetric VR project produced in Jerusalem to date, an inter-faith team of Jewish, Christian, and Muslim innovators has brought their unique perspectives to the magic and wonder of Jerusalem," a statement from the museum said.
Using cutting edge 3D video and audio capture technologies allowed the team to capture real environments in unparalleled detail, and through exclusive relationships with key local religious figures, according to the museum's statement. The team was granted unforeseen access to key Holy sites throughout Jerusalem; including The Western Wall, The Holy Sepulchre, Al-Aqsa mosque and The Dome Of The Rock.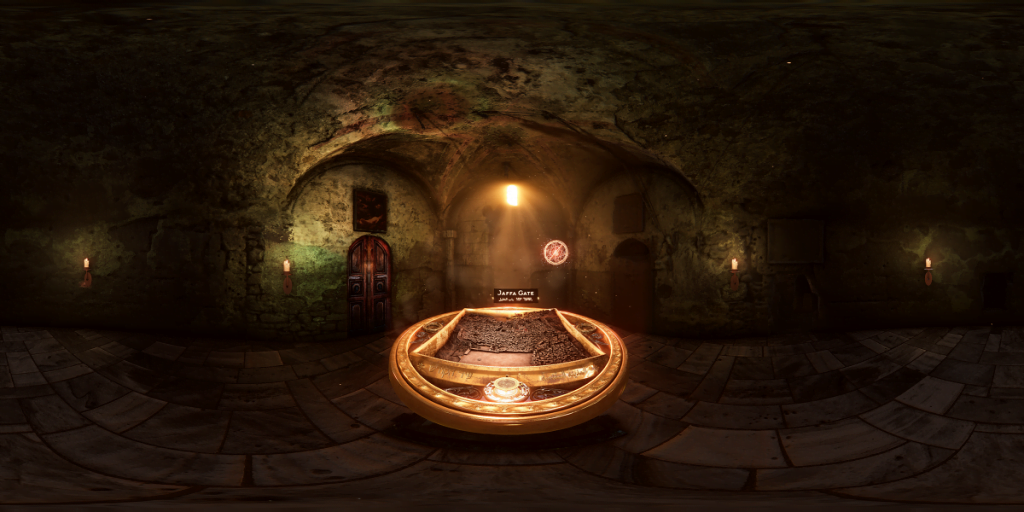 For the first time since 1992, three monotheistic religions (Jewish, Christian, and Muslim) were supposed to have celebrated their holidays Passover, Easter, and Ramadan all within the same month, with Jerusalem pilgrims expected in the thousands. The coronavirus pandemic has restricted public gatherings and travel to Israel, but this virtual tour can be accessed on the TOD website from April 9 to 24 — the first day of Passover, through Easter weekend, and until the first day of Ramadan — on the TOD website free of charge.
Tel Aviv Museum
The Tel Aviv Museum is closed as of March 15 in accordance with the new guidelines, but patrons are invited to browse the website and social media networks for premium content such as virtual tours, varied video, audio guided tours, live broadcasts, courses, and lectures.
Currently, the museum has a 3D virtual tour of The Cosmos by artist Yonatan Vinitzky at the Helena Rubinstein Pavilion for Contemporary Art. The Cosmos is an installation that spreads over three floors, offering a model of an exhibition. Sixteen elements of the exhibit are designed at a 1:1 ratio but their very existence as concept and matter is a model. The title of the installation is taken from a book by Avigdor Hameiri (published 1955), which was the first attempt in Hebrew to communicate astronomy to adolescences. The curator of the exhibit is Dalit Matatyahu.
The weekend right before the museum was closed, thousands of visitors came to see the pop art sculptures of popular US artist Jeff Koons. The exhibition, "Absolute Value," from the collection of Marie and Jose Mugrabi, presents a selection of large-scale works from different periods in Koons' life. Photos from the exhibit can be seen on the museum's Instagram page.
Tel Aviv Art Studio
The Tel Aviv Art Studio, known for its popular paint nights with a glass of wine, is offering pre-recorded classes for adults free of charge (found on the studio's YouTube page in the coming days). The studio will also have live videos on its Facebook page — one was just uploaded on Monday about art materials that can be used in the home — and private classes for one-on-one sessions or small groups.
The studio's founder, Natasha Gutman, has led art projects from her living room since she made aliyah in 2009, and when others started getting involved they encouraged her to open a space. Eleven years and four locations later, Gutman and her business partner Michal Berman opened the current studio near Dizengoff St. in December 2019.
"It's about keeping connections with the locals," she tells NoCamels.
Online Classes at Tel Aviv University
TAU Online – Center for Innovative Learning, founded by the university's former president Prof. Joseph Klafter, is offering a variety of online classes where students, or anyone looking to study something new, can learn from the comfort of their own home and potentially learn academic credit.
For some classes, students can enroll through Coursera, the American online learning platform, for free or pay $49 to earn a certificate, though the courses are specifically offered by Tel Aviv University. Other classes are run through Campus IL, a national initiative run by Digital Israel in the Ministry of Social Equality and the Council for Higher Education to enable everyone in Israel to acquire education or in collaboration with other universities.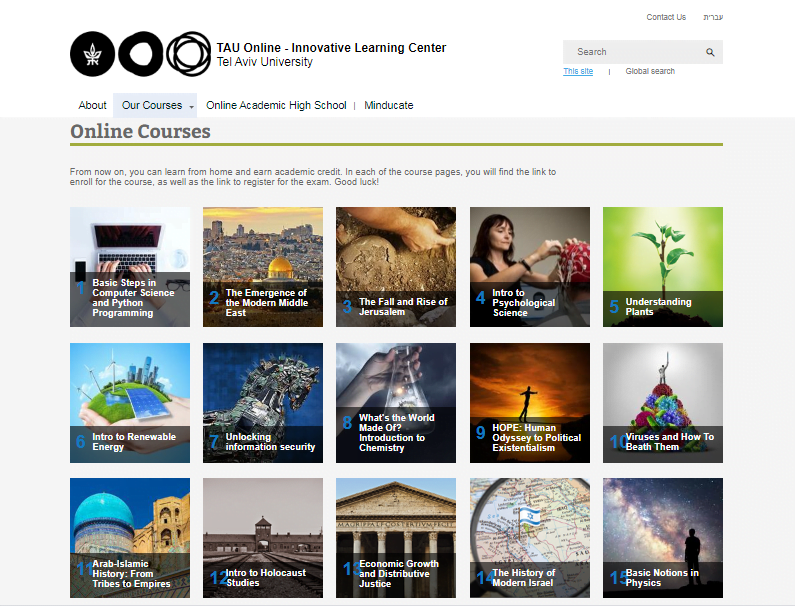 Unique classes offered on TAU Online range from modern Israeli history and the Middle East to information security, computer languages, and psychological science, to name a few. Students can choose from classes like The Fall and Rise of Jerusalem to Economic Growth and Distributive Justice.
TAU Online was founded in 2013 with the aim of redefining the university's pedagogical vision and to adapt it to the digital age. Since its formation, the center has launched a variety of initiatives, developed projects, and built partnerships in order to make academia more accessible to a wider public.
Travel Trailer Israel
Travel Trailer Israel is a video library designed as a preview of Israel for tourists and travelers who are thinking about visiting. Through the series, found on the Travel Trailer app, the most popular and important sites around the country are shown, giving the traveler the visuals he or she needs to make informed decisions.
The library was developed by Uri Goldflam, a licensed tour guide and educator with over 27 years of experience who spent three years developing the videos and app before launching it last month. Goldflam told NoCamels he noticed that for every 10 Israelis who visited the country, there were 10 or so who didn't. He also says he wanted to show travelers who were wavering on whether to visit an unfiltered version of Israel, the one you don't see in the media.
Goldflam says that when people decide to come to Israel, they are usually hit with an overload of information. At about 90 seconds each, Travel Trailer videos are short, concise, and help portray Israel in a realistic but positive way.
Goldflam also says Travel Trailer is relevant to people who want to teach others about Israel. He encourages Israelis spending time at home to go through the library and use it as an educational resource. While Goldflam is only beginning to roll out travel videos and develop the app's social media sites, he says he wants to eventually include more about Israeli society, culinary locations, and more.
SEE ALSO: Israel In Numbers: Snapshot Of A (Largely) Happy, Healthy Educated Nation
Goldflam says Travel Trailer can be the perfect tool for planning a future trip.
"The coronavirus will eventually be over. People will want to travel again," he said.
Related posts

Veterans Provide Practical Help, Comfort For Wounded IDF Troops
November 12, 2023