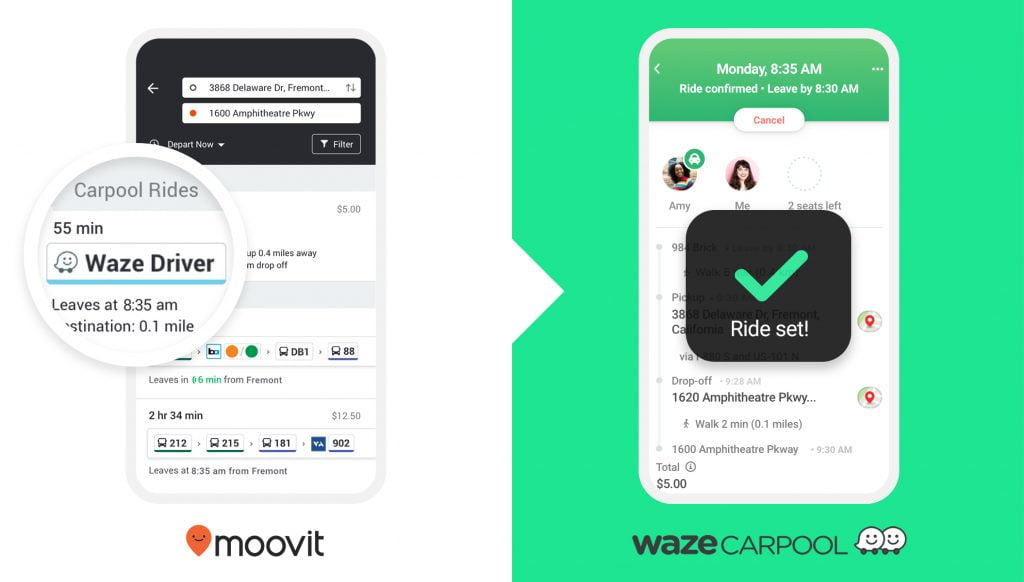 Israeli transit data company Moovit announced a new partnership on Wednesday with Israeli-founded navigation app Waze, now a Google company, to integrate Waze's carpooling feature into Moovit's transportation app.
Moovit, with half a billion users on its popular urban transport app, and Waze, with the largest community of drivers globally, will join forces for a pilot program in the US, Brazil, Mexico, and Israel that will allow commuters to ride together "for an affordable and eco-friendly way to commute," the companies said in a statement.
SEE ALSO:Moovit-Mobileye Partnership Signals New Era For Urban Mobility
This is the first third-party transit integration for Waze Carpool, and the first third-party carpool offering to be integrated into Moovit. The feature will first be rolled out to Android users and then iOS at a later date.
The partnership, they said, will "empower millions of commuters to share the road and the costs."
Moovit users will have the option of using Waze's carpool feature while planning their trip and will be matched with a Waze Carpool driver – where relevant – "for an affordable, convenient and enjoyable commute – with the first ride free for new riders."
"At Moovit we want to simplify urban traveling for riders by providing them with all possible mobility options to get from point A to point B. With many mobility options, users can choose the best trip plan for them in regards to trip duration, affordability, and convenience," the company tells NoCamels via email.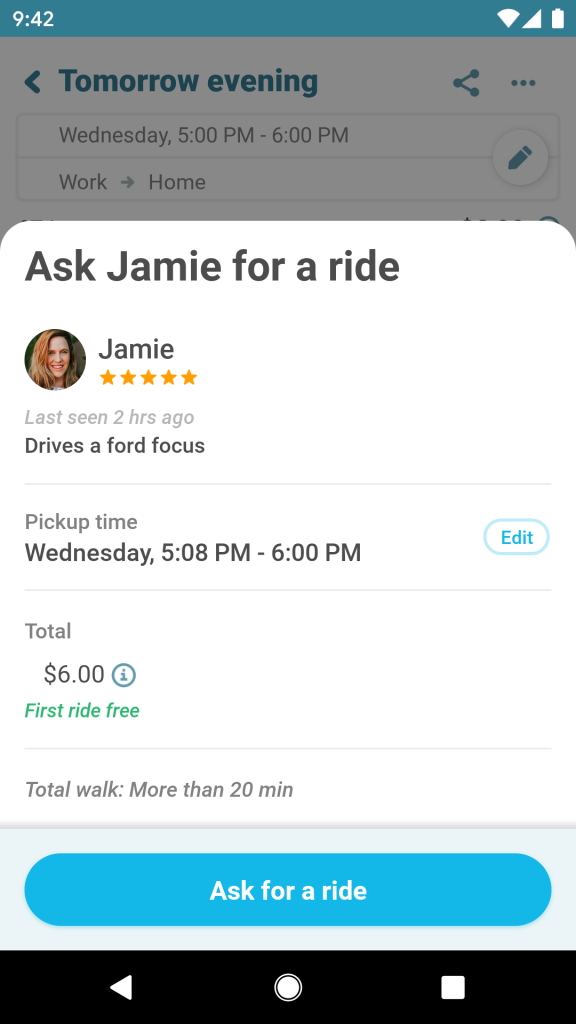 "As we continue to strive to empower people everywhere to get around with peace of mind, Moovit is constantly offering new mobility solutions for its users," said Nir Erez, co-founder and CEO of Moovit. "That's why we are very proud to partner with Waze and launch this joint pilot program to offer an alternative to their regular commute via every day carpooling. This is the first community collaboration of its kind and it's all steered by commuters, for commuters."

Aron Di Castro, Waze director of business development & partnerships said the company was excited to launch the pilot and expand the Waze Carpool community.
"Thanks to this partnership Waze Carpool drivers will be able to connect with even more riders headed their way via the Moovit app, empowering more commuters to enjoy affordable and convenient carpools. By riding together, we can all take cars off the road and help decrease traffic and congestion for everyone," Di Castro said.
Waze first rolled out Waze Carpool in 2016 in the Bay area and has since expanded across the US, Brazil, and Mexico. Its carpool feature is also available in Israel.
Waze tells NoCamels in an email that it has seen the carpooling feature "take off and last month (September)," with carpoolers completing more than 550,000 rides globally. "
Sign up for our free weekly newsletter
Subscribe
"The usage in Israel alone has more than tripled since the beginning of 2019. While we're only live in Israel, USA, Brazil, and Mexico, we've seen our LATAM [Latin American] markets respond particularly well to Waze Carpool."
Waze says the goal "is to make carpooling a simple and convenient way to commute for as many people possible and we're excited to be collaborating with Moovit to get Waze Carpool in front of even more commuters."
Waze was founded in 2007 by Uri Levine, Ehud Shabtai, and Amir Shinar and was acquired by Google in 2013 for $1.3 billion. Levine served on Moovit's Board of Directors when Moovit first launched and has been a board member since.

Moovit was founded in 2012 by Erez, Yaron Evron, and Roy Bick and today has over 500 million users on its free mobile and web app, providing mobility options in 3,000 cities, 93 countries, and in 45 languages. The company has raised over $130 million to date, including a $50 million funding round last February led by Intel.
Its mobility options are already quite extensive and include ride-hailing companies (Uber, Lyft, FreeNow, Gett), car-sharing companies (Zipcar, Car2Go, DriveNow, Zitty, and others), station-based bike-share systems (CitiBike, Santander Bike in London, and hundreds of others), dockless bikes (JUMP, Mobike, Donkey Republic and others), scooters (Circ, Voi, Lyft Scooters, Skip, and others) and Mopeds (Coup, eCooltra, MiMoto and others).
The Waze Carpool partnership offers the newest mobility option for users and presents a different opportunity, Moovit says.
"With Waze Carpool, we are removing cars off the road, making it a better commute for everyone. Our service makes the most out of rides that are happening anyway by pairing people headed in the same direction," the company says.
"Waze Carpool fits perfectly into the transportation ecosystem alongside taxis and public transportation and it does not compete with professional transportation services as social carpoolers are not professional drivers and no salary is paid, and there's a limitation of two carpool rides that the driver can offer to each rider," Moovit explains.

SEE ALSO:Uber Taps Moovit For Transit Data, To Offer New In-App Public Transport Feature
Moovit also tells NoCamels that the partnership is quite unique in that both parties are Israeli companies, "leading global players in the mobility arena and complementary brands."
"With half a billion users, Moovit has the largest community of urban passengers and Waze Carpool has the largest community of drivers offering up their empty seats for a shared ride," Moovit says.

Related posts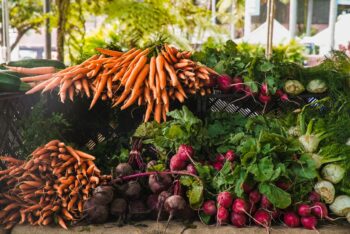 A Cybersecurity Approach To Cutting Food Waste
September 28, 2023