There are currently less than 200,000 Holocaust survivors living in Israel today. In two years, that number will drop to 142,000 survivors and by 2025, it will further decrease to 92,600. In less than 20 years – by 2035 – just 26,200 Holocaust survivors will remain among us, according to a Central Bureau of Statistics report released ahead of International Holocaust Remembrance Day in January.
Survivors in Israel and around the world face a number of daily challenges. These challenges aren't limited to aging, trauma or PTSD – they include financial, psychological, health, and social struggles. In Israel, some 50,000 Holocaust survivors live below the poverty line. And in the US, a third of the remaining 100,000 survivors live in poverty with a majority living on less than $23,000 a year.
These figures are concerning, not just because present conditions for survivors are not where they should be, but also because the number of survivors is decreasing fast. As more and more survivors pass, their personal accounts of what they endured, many of which have not been documented, die too.
SEE ALSO: Israeli Duo Working To Put Together Holocaust-Era Theater Online
There's also been a troubling wave of Holocaust denial, with the Anti-Defamation League (ADL) finding in a 2014 global study that as many as 32 percent of people around the world think the Holocaust is a myth or greatly exaggerated. A new study about Holocaust awareness among Americans conducted by the Claims Conference found that 11 percent of adults over 35, and 22 percent of millenials, aged 18-34, had never heard of or were not sure they've heard of the Holocaust.
Israelis have caught on to these negative trends and are eager to shift the paradigm, especially among younger generations.
The new trend harnesses the power of technology and Israel's "Startup Nation" mindset to not only find solutions for the benefit of Holocaust survivors but to also look for new ways to educate people about the Holocaust.
VR platform wins Holocaust hackathon
In May, TLV Starters, the organization of entrepreneurs behind the book "Startup Guide Tel Aviv," held a 36-hour hackathon aiming to "find and create feasible solutions for challenges in education, remembrance and quality of life of Holocaust survivors" and establish a platform to enable collaboration between companies and organizations.
The Israeli high-tech sector "holds incredible resources of manpower and know-how" and "can do much more to support this unique Israeli and Jewish challenge," TLV Starters said of the "Spark Hackathon."
The initiative, led by the organization's founders Erez Gavish and Natan Leibzon, as well as other entrepreneurs, delivered cash prizes to three teams in first, second and third place, with support from Israeli VCs, the Foundation for the Benefit of Holocaust Victims in Israel, Tel Aviv University, the Tel Aviv Stock Exchange, and tech giant Microsoft.This p
The winning prize went to a project dubbed Momento, which used virtual reality (VR) tech and augmented reality (AR) to create a visual experience of Jewish sites in Europe before and during the Holocaust, offering an authentic reconstruction of buildings, streets, ghettos, and concentration camps.
An 'immersive experience'
In a similar project, two film students from the Interdisciplinary Center in Herzliya (IDC) harnessed VR technology to tap into a new way of talking about the Holocaust, one specifically geared toward young people.
"It's very important to pass on the stories of the survivors to the next generations," Itamar Duschnitzky says in an introductory scene in Fragments, the 360-degree project he is involved in with his film partner Akim Dolinsky. "This project is designed for the younger generations in the future, that most likely won't get exposed to these stories through a movie or a book."
Sign up for our free weekly newsletter
Subscribe
"Our kids might not be able to meet Holocaust survivors," Dolinsky tells NoCamels.
Duschnitzky and Dolinsky took on the project, with the guidance of IDC guest lecturer Tal Haring, who taught a Storytelling in VR course, hoping to "preserve the essence of every living Holocaust survivor," and find a way to to make Holocaust stories accessible to youth in an innovative way.
The duo accompanied an international student delegation to Poland to learn about the Holocaust and film individual reactions to the surroundings.
They opted for VR tech because of its immersive qualities.
Using VR technology to film requires different cameras, Dolinsky explains. A typical camera has one lens while the 360-degree cameras that create VR headshots need to have two lenses on both sides (180 degrees for each lens) to create the full effect. "It's like having eyes in the front, eyes in the back," he says. The two shots are then stitched together to create the VR footage.
Wanting to take things further, and under Haring's mentorship, they moved to 3D filming, which they taught themselves. It involved interviewing Holocaust survivors in a standing position and scanning them in 3D using a video scanner. The pair used a variety of technologies, including in-depth video tech and volumetric filmmaking which features moving images of real people that exist in 3D, like a hologram.
They also used human actors, which Dolinsky referred to as 3D "still models" who were dressed in clothing of that period to recreate situations, and drones for filming in large areas, working with special software to handle the captured footage.
Duschnitzky and Dolinsky built a storyline around the survivors' tale using 3D reconstruction, with 360 cameras. They would also do this with settings – scouring locations for trains that "don't look like passenger trains" and forests that they could film and then scan to recreate the transports to concentration camps and the forests that housed those camps.
SEE ALSO: 'Time Travel': See 'Ancient Israel' As It Was With 'Vortex' Virtual Reality Tours
To expand the project, the duo hopes to start gathering a budget and connecting with investors, production teams, survivors, and even Yad Vashem to see how they can build the project on a national scale. But above all, they want it to become a tool in Holocaust education and knowledge for future generations.
"Our dream is to create a Holocaust testimonials library in VR, so that every survivor could tell his [and her] own story. We want the young people watching to experience what it was like, how they felt, and create a realistic feeling of what happened so that they can understand what these survivors were going through and what their story is all about," Dolinksy says.
"This might be the best way to transition into the future of how we tell the story of the Holocaust," he adds.
The project was developed at the IDC Sammy Ofer School of Communications' Content Hub. The IDC is a sponsor of NoCamels.
Related posts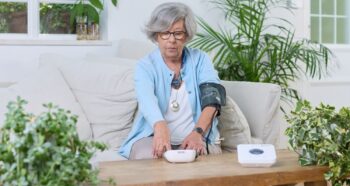 Smart Healthcare System Keeps Elderly At Home, Not In Hospital
November 29, 2023