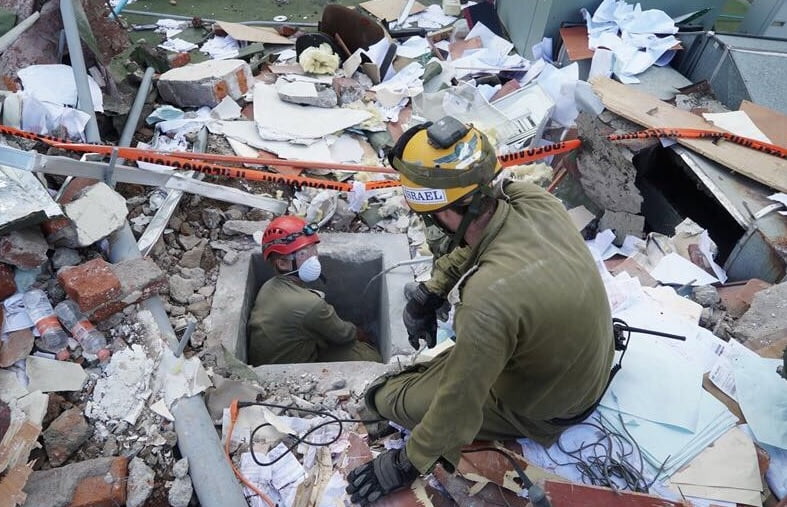 When disasters strike, the first few hours of searching for and rescuing victims are critical. And when it comes to the thin line between life and death, using the most cutting edge technology can be what makes the difference. Israel has long been at the forefront of this technology and its responders are among the first to hit the ground when disasters occur.
In recent years, Israeli organizations like the Israeli Defense Forces (IDF), Magen David Adom, and IsraAid have figured prominently in relief efforts following natural disasters worldwide, including the earthquakes in Haiti in 2010, Nepal in 2015, and Mexico this year as well as the Caribbean hurricanes of this past summer.
Israeli aid workers have a variety of resourceful solutions at hand — from sensors that work like X-ray vision, to high-tech aircraft, and even robots to quickly locate victims trapped under rubble. At the same time, Israel's advanced first-aid techniques, like high-tech bandages and blood freezing, help workers treat victims as efficiently as possible.
SEE ALSO: Israeli Rescuers Search For Survivors After Devastating Earthquake
Although the IDF Home Front Command formally handles search and rescue (SAR) within Israel, Israeli entrepreneurs are often behind many of the life-saving technologies SAR teams employ.
Here are five Israeli technologies that are transforming search and rescue efforts, when every second counts.
Res-Q-Cell
Res-Q-Cell locates survivors trapped in wreckage by issuing signals that activate their cellular devices, even when cellular networks collapse. Res-Q-Cell, first introduced in 2016 by the Israel Aerospace Industries (IAI), works by sending a signal over an area of up to 100 square meters that activates cellular devices, detects their signals, identifies their owners, and precisely geo-locates them. The system is adaptable and can be installed on a number of platforms including commercial and military vehicles, drones, helicopters, and aerostats.
The technology was used for the first time in September 2016 to locate and recover victims of a collapsed four-story underground parking garage in Tel Aviv. Some 500 rescue workers, including Israeli soldiers from the Home Front Command Search and Rescue Unit, worked around the clock for six days to locate six missing construction workers, who all died in the collapse.
In an interview with The Times of Israel during rescue efforts, the head of the Jerusalem and Central District of the IDF Home Front Command, Colonel Ramtin Sabti, said Res-Q-Cell's level of precision was phenomenally higher than cellular locators used up until then and could pinpoint a phone within a radius of less than a meter.
IAI has said the system, sold internationally, "can be tailored to specific areas or country requirements and is designed to work in different scenarios including natural disasters such as earthquakes, storms, floods, tsunamis…building fires, and terrorist attacks."
Just another reason to keep your phone on you when you leave the house.
Xaver Sense Through the Wall System
The Israeli firm Camero-Tech, a world-leading company providing Sense-Through-The-Wall (STTW) solutions, developed the Xaver (Hebrew for "friend") – a life-saving imaging system used by search-and-rescue teams all over the world.
Operators can deploy Camero's Xaver family of scanners on solid walls to get a 3D outline of the objects behind it. The system uses an ultra-wideband radar to "see" through walls along with a "breath detection" mechanism to differentiate between static and moving objects.
The scanners come in a variety of sizes, each with its own unique features. The smallest is the Xaver100, a handheld device that provides real-time information on enclosed spaces for tactical decision-making. The biggest, the Xaver800, is designed for Intelligence, Surveillance and Reconnaissance (ISR) missions and is used by military and law enforcement agencies worldwide, according to the company.
Camero's STTW technology was used by search-and-rescue teams this past September after Central Mexico's deadly earthquake. The system was used by rescue workers to search through the rubble for trapped victims, and according to Camero-Tech founder and CEO Amir Beeri, helped rescue a number of people hit by the quake.
RT Aerostats Systems' SkyStar
Sign up for our free weekly newsletter
Subscribe
RT Aerostats Systems' SkyStar family of surveillance balloons have a variety of important uses including surveillance, venue security, and search-and-rescue. The company was founded in 1996 by the former head of the IDF's 8200 intelligence unit balloon department, Rami Shmueli, with an aim to produce simpler, more cost-effective military reconnaissance balloons.
Shmueli then expanded into the civilian sphere, developing and selling RT Aerostats surveillance balloons to at least 10 countries worldwide. Its systems are also used in Israel by the police and the military. Operators require only minimal training to use SkyStar aerostats and can transport larger ones via a pickup truck while the smaller ones fit in a backpack.
RT's Skystar aerostat was deployed in Mexico in September this year by RT's American subsidiary company to help search for survivors in the aftermath the deadly earthquake, making it the second Israeli-developed technology on this list used to help search for survivors in that disaster
The company was also recently chosen as a provider for the US Federal Emergency Management Agency (FEMA), which coordinates responses to natural and man-made disasters.
Vayyar's 3D sensor technology
Similar to Camero-tech but with a different technology and applications, the Yehud-based company Vayyar has developed sensors that can visually display and detect in 3D what lies behind barriers. From the ability to find victims on search-and-rescue operations to recognizing early breast cancer tumors, Vayyar's X-Ray vision 3D sensors can literally change the way we see the world.
These sensors work together with antennae consistently sending out low-power radio frequency transmissions that travel through objects and even liquids, to create an accurate map of the environment. While radio frequency sensors such as MRI have been around for quite some time, Vayyar aims to make its technology accessible and low-cost. Everything in Vayyar's system — the antennae that receive and transmit the signals, the compact sensors along with the algorithms that interpret the data — is priced at a fraction of the cost of MRI systems, x-rays and ultrasound machines, which run into the thousands.
The technology also has a host of other applications including in construction to detect structural problems or leakages; for robotic navigation and vision; food safety monitoring; home security and automation; and in-car monitoring.
Unmanned Search and Rescue Systems First Responders
The Israel-based Beeper Communications is working together with the US-based Mantaro Networks Inc to jointly develop Unmanned Search and Rescue Systems (USRS), after being awarded a $900,000 grant for the project last month by the BIRD Foundation – an American-Israeli organization that promotes industrial research and development in the US and Israel.
The companies are using the funds to develop robots that will serve alongside first responders, to fill in the "capability gaps" of human rescuers, the companies said in a press release.
Senior Vice President of Beeper Communications, Moshe Levinson, said in a statement in October that "in an age where man-made and natural disasters have become global phenomena, it is important to integrate the various responders and their agencies, to minimize casualties and damage to infrastructure and private property."
The rationale is to "integrate the various responders and their agencies" as SAR activities today often require cooperation between different governments and institutions. Robots can give a more accurate "common operational picture" that rescuers can, in turn, use to more efficiently coordinate SAR efforts, he indicated.
Mantaro said it has already built a fully functional Unmanned Ground Vehicle (UGV) that communicates through a Beeper cellular bonder, and which can be used in emergency situations.
SEE ALSO: Innovation Nation: Twelve Israeli Inventions That Are Changing The World
"This is, a real differentiator and advantage when thinking about the safety of a UGV operator" Mantaro CEO Jeremy Parsons said in a statement. "We have now proven an ability to use the bonder to send and receive rich, high bandwidth data to and from the UGV. This not only provides real-time operational views and information from the field to the command center, but also allows operation of the UGV from anywhere, further removing first responder personnel from harm's way during uncertain and challenging situations. It was one of the primary initial goals of the project and we have validated this function quickly."
The police departments of Baltimore and Houston have already expressed interest in the project.
Related posts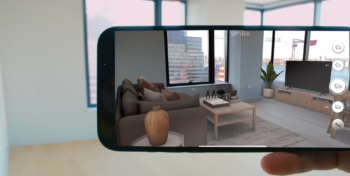 Augmented Reality App Makes Empty House Into Potential Home
October 02, 2023