In the age of cell phones, tablets and electronic devices, even a weekly therapist visit has become an online event.
Talkspace, an online platform providing psychotherapy and counseling through online and SMS, has honed in on this concept, and the world is intrigued.
So, too, are investors. Talkspace recently completed a third financing round of $31 million thanks to active growth fund Qumra Capital. Qumra Capital joins Spark Capital, SoftBank, and other firms to bring the company's total investments to $60 million.
Talkspace was founded in 2012 by Israeli husband and wife team Oren and Roni Frank. According to CEO Oren Frank, Talkspace will use the $31 million investment to move forward and expand into commercial health markets. "This round comes at a time when Talkspace is experiencing dramatic growth," said Oren Frank, in a statement. "More people than ever are using our platform for their mental health needs. The additional funding gives us the opportunity to build upon our momentum."
According to the New York Business Journal, the Franks launched Talkspace after they overcame marital troubles through couples therapy. Today, over 500,00 people use their online platform. The Talkspace platform pairs clients with quality psychologists through their website and mobile app. The service is only in English and is not expected to expand beyond the US market anytime soon. It operates in New York with at least 50 employees.
SEE ALSO: SMS-Based Therapy Talkspace Already Popular In NYC, Raises $9.5 Million 
Talkspace offers plans for as little as $32 a week. They also have monthly subscriptions which allow you to receive unlimited communication with your psychologist, voice messages, and a limited amount of video calls at $160 a month. To compare, a traditional one-hour session with a licensed clinical psychologist usually costs around $100, so the financial appeal of TalkSpace is broad.
All therapists available through Talkspace are licensed and have background information already provided. According to their site, at least 1000 licensed therapists are available, including ones that specialize in depression, anxiety, or societal challenges.
The risks behind an online/mobile therapy app
Patient-therapist confidentiality is practiced on the Talkspace platform. But here's where the controversy comes in. Due to a policy of patient anonymity on the online platform,  patients are not required to provide contact information. But what if the patient becomes a danger to himself or others? If the therapist only has the patient's username, who then is responsible for the safety of the patient and the people around them?
Sign up for our free weekly newsletter
Subscribe
While Talkspace is working on making its emergency and confidentiality policies clearer, this is just one of the dilemmas that comes with the new world of online and mobile therapy.
According to the Journal of Medical Research, nearly 6 percent of all mobile health applications are now devoted to mental health. But although the "tele-health" community has grown significantly in the last few years, there are still plenty of other issues that surround it. Thanks to the Internet, information is given out freely and there is no way to know who is seeing what. Also, therapists can and do use scripts. Ethics guidelines are loose and and not always followed.
Is mobile therapy a serious thing? 
Mobile psychology and the idea that platforms and apps are available to connect patients with therapists is not a foreign concept. Online therapy sites like Blah Therapy and Mobile Therapy are reinventing the world of therapy for a new generation of avid electronic device users.
According to the American Psychological Association (APA), "Technology can contribute to an evolution in how people receive psychotherapy or work with a psychologist." It can be convenient, cheaper, and easier for people who have a hard time getting to an actual office.
SEE ALSO: Israelis Create Therapy 'Bubbles' In The Heart Of New York City with 'Talkspace'
Furthermore, says APA in other research, if it's possible that online and mobile apps can target health behaviors, why can't therapy be used to "circumvent the barriers to mental health care" through online and SMS text? Those barriers, according to Talkspace, are the stigma and shame that may come from showing your face. Talkspace eliminates this stigma and allows the patient to remain anonymous, or at the very least, feel that way.
As Talkspace looks to expand its commercial market, the answer is clear. The future of psychology may just be in the palm of our hands.
Photos and Video courtesy of Talkspace, Mimzy'"
Related posts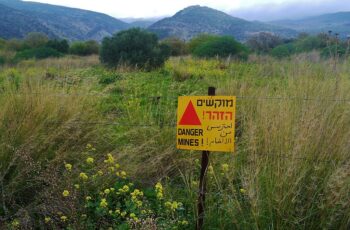 Using E.coli Bacteria To Detect Landmines From Afar
October 03, 2023