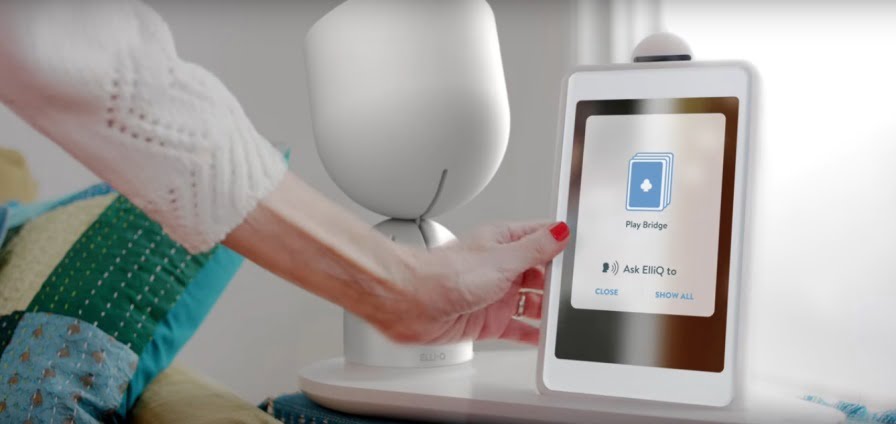 A new robotic companion named ElliQ could soon transform the lives of the elderly.
Developed by Israeli startup Intuition Robotics, ElliQ is a two-piece companion for the elderly: one part tablet computer, and one part little robot that looks like a desk lamp. The small robotic creature and the separate screen are designed to create human-robot interactions that can make aging a lot easier.
ElliQ can play music, remind you to take your medicine, call friends and family, suggest activities that might be relevant to you, track your health, your house, and alert loved ones and health professionals of any medical emergencies.
SEE ALSO: Robotics Star Guy Hoffman Talks To NoCamels About Robots With 'Soul'
The robot even exhibits some cute "human-like" traits. When it shows you a photo, ElliQ may tilt its head to view the photo with you, thus creating interaction. ElliQ can look at you, hide behind the screen, make various sound effects with different tones, and use different lights – all of which make for a natural experience, according to co-founder Dor Skuler.
High social impact
Founded in 2015 by Itai Mendelsohn, Dor Skuler and Roy Amir, Intuition Robotics develops technologies that emotionally connect people with devices, and enables the devices to make autonomous decisions and to adapt to the people they serve.
"We all wanted to do a project with a high social impact, and we all have aging parents – it just came together," Skuler tells NoCamels. "The issue of loneliness among the older adult population and bettering their quality of life isn't addressed much in the startup scene. That's what drove us to research and develop the idea that eventually led to ElliQ."
SEE ALSO: This Robot Gets Frightened When You're Angry
Collaborating with award-winning Swiss designer Yves Behar, and American tech guru Dr. Don Norman, the company wanted to create a slick robot using the latest technology in artificial intelligence and machine learning, allowing ElliQ to make its own decisions, and learn from its experiences.
Granted, no one expects people to fall in love with their robot like in the movie '"Her," but ElliQ can create a sense of interaction and fill some emotional needs, as was recently shown in a study conducted by IDC Herzliya.
The company insists the device's simple design is intentional, so as not to "scream 'technology'" and be less intimidating for the older population," Skuler says. "We don't want a device that looks like it came out of a movie."
Sign up for our free weekly newsletter
Subscribe
"Real human behaviors"
According to Skuler, ElliQ can help families include their older loved ones in their lives, through video chats performed by the robot, for example. ElliQ "brings families together in a natural way that allows advanced technology to build a bridge and remove the friction that comes with the growing generational gap," he says, adding it "exhibits real human behaviors."
Proactively suggesting engagement opportunities
Instead of being a reactive assistant like Apple's Siri, for example, ElliQ aims to be proactive and to suggest content and engagement opportunities to its users in order to help them reach their goals. It may ask your permission to play some music in the morning, maybe suggest going for a walk, all of which create a more authentic relationship and promote a healthier lifestyle.
Monitoring is another feature ElliQ provides: it can keep track of when the user wakes up, whether a stranger is walking around the house, what the temperature is, and more. The information is then shared with the person that you pre-designated.
It's no wonder this elder-care assistant recently raised $6 million from robotic vacuum cleaner giant iRobot and Israeli crowd-funding firm OurCrowd. According to a new study published in the British medical journal The Lancet, life expectancy is on the rise in many parts of the world. And as the population grows older, people are left with many more years of retirement – and possibly loneliness.
With no official launch date as of yet, the company recently performed a live demonstration at the OurCrowd Summit in Jerusalem. "Seeing people interact with the product and hearing their reactions has been a very humbling experience," Skuler says.
He declined to disclose the cost of the gadget, but says it is expected to match similar products on the market in price. Popular robotic companions Amazon Echo and Alexa cost about $180.
"We have a waiting list from hundreds around the world – older adults who would like to try it, grandchildren wishing to get it for the grandparents," Skuler says. "Though we have a lot to learn, I think we hit a nerve in the community."
Photos and video: Courtesy
Related posts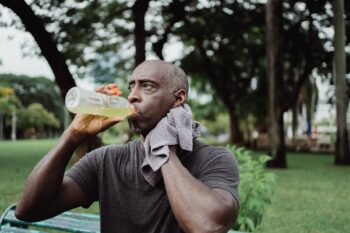 Startup Helping You Get Heart Healthy By Measuring Your Sweat
December 04, 2023