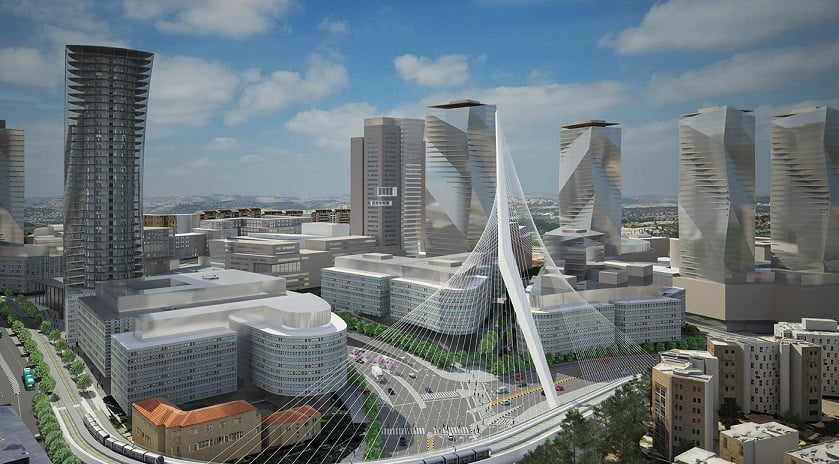 This article was first published by The Times of Israel and was re-posted with permission.
Jerusalem Mayor Nir Barkat and Israel's Transportation Minister Yisrael Katz are set to attend a cornerstone-laying ceremony on Wednesday evening for a new business district at the entrance to Jerusalem, flagged as a "game-changer" for the nation's capital and one of the most prominent business projects in the country.
"This project we are initiating is a game-changer for Jerusalem. It is the biggest, most significant and essential project for the future of the city," said Barkat in an emailed statement to The Times of Israel. "Jerusalem after the completion of this new business district will be different from before," transformed from a city with stalled economic growth and a declining population to "an attractive city for young people," competitive and empowered.
SEE ALSO: Why The World's Largest Accelerator, MassChallenge, Chose To Open In Jerusalem
With an investment of NIS 1.4 billion (approximately $364 million) by the government and the Jerusalem municipality, the Jerusalem Gateway project district will spread out over an area of approximately 700,000 square meters (173 acres), starting from the Chords Bridge that greets visitors at the entrance to the city, and leading to a renovated Binyanei Ha'uma – International Convention Center and right up to Ben Zvi Boulevard, where the popular Ima restaurant is located.
"The project is huge and will create an area that will be completely integrated with the rest of the city and throbbing with cultural and commercial activities during the day and the night," Lior Grunhaus, vice president of Eden, the municipal company that is managing the project, said in an interview. "Today the entrance to Jerusalem is peppered with empty parking lots and bus lots that are not what you'd like to see entering the capital of the country."
SEE ALSO: Israel's Stunning New National Library Breaks Ground In Jerusalem
The approved master plan for the area, developed for the municipality by Israel's Farhi Zafrir Architects, envisages 24 new office buildings, nine of which are 36-floor skyscrapers, with 60,000 square meters of commercial space, business centers, hotels, and 70,000 square meters of leisure and cultural spaces. This is to be connected to the rest of the city via new walking and cycling paths and two light railway lines.
"We are now working on the urban and landscape plans to make sure the essence of Jerusalem is preserved," Grunhaus said. "We are investing a lot of money and time in planning the cycling and walking routes, to ensure that people will be able to pleasantly walk from the district to the city center and the old city."
To read the full article, click here. 
Photos and video: Moriah, Dagan
Related posts

Veterans Provide Practical Help, Comfort For Wounded IDF Troops
November 12, 2023