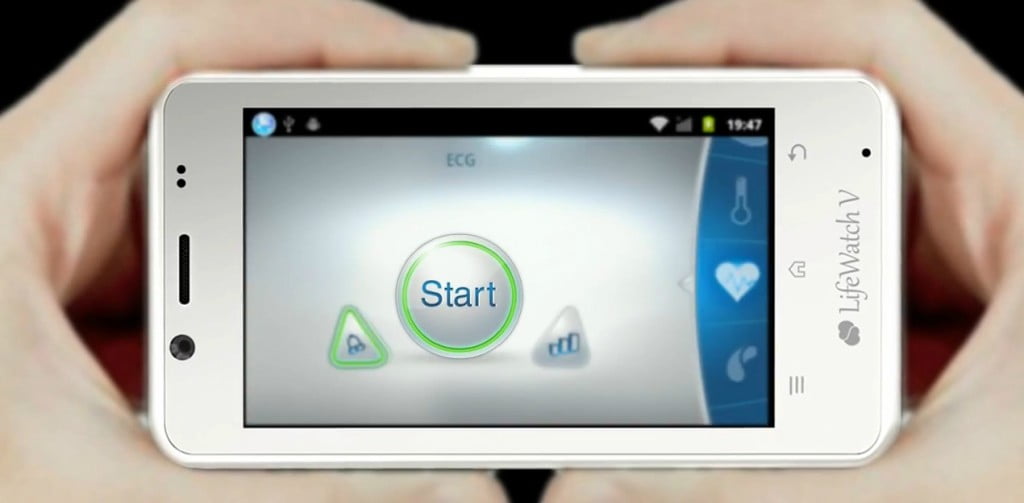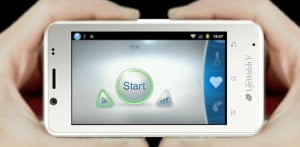 Tired of having to go to the doctor every time you need a checkup? Now, with the new smartphone developed by Israeli company LifeWatch Technologies, all you need is your phone in order to perform and analyze a wide range of medical tests – anywhere, at any time, with the click of a button.
"The android based LifeWatch V will be especially useful to help manage many aspects of a chronic medical condition such as diabetes. Blood glucose test strips can be inserted right into a portal on the phone's stainless steel frame and it can send reminders to check glucose levels and take insulin," says CEO Dr. Yacov Geva.
Related articles
Geva adds: "With the help of the smartphone's embedded sensors, you can also check your blood oxygen saturation level, perform an at-home electro-cardiogram (ECG) or measure your blood pressure with an attached sleeve. Additionally, the smartphone offers the use of a thermometer and a pedometer to keep track of your daily footsteps. To top it off, you can also use the smartphone to calculate your body fat percentage and even log your workouts."
Once the tests are performed, LifeWatch V says it sends all of the collected data to a remote server in the cloud to be analyzed by the company's proprietary algorithms. "Results and trend data are quickly shared with the user, and if desired, with a third party via text message or e-mail," says Geva.
A timely appearance
Geva first conceived the idea when Palm Pilots (handheld computers) were still trendy. His original patents for the embedded sensors date back to 1998, with additional development work being done in 2001 and 2006. However, only recently has technology progressed enough to make this project viable.
[youtuber youtube='http://www.youtube.com/watch?v=A75GggZSWgc#t=92′]
"The real breakthrough came when Apple changed how a smartphone could be used, so we were able to take our initiative forward and develop the product based on an Android operating system," says Geva, adding that LifeWatch came into this project with more than 20 years of experience developing 45 different types of medical sensors.
It's not just an app, it's a smartphone
What makes this gadget different from mobile applications which you can download on any smartphone is that the whole smartphone is dedicated to monitoring, analyzing and maintaining your health levels, incorporating various health apps and supplies into one machine.
Sign up for our free weekly newsletter
Subscribe
In the wake of a growing spending gap in healthcare, the company says it has made it a priority to provide quality health care for a lower cost. "For the first time, patients will be able to manage their illnesses anywhere, anytime," informs their promotional video, shown below.
Helping parents keep track of their kids
The company designed LifeWatch V for ease of use among all age groups, but their target consumers are children with diabetes.
"Parents can follow their children to see if they're doing daily testing and taking their insulin while they're at school," Geva explains. "Let's say a child has to do a blood glucose test at 9am. When he does the test, the data is sent automatically to the cloud and the parents can get the results immediately, on any kind of device. If the parent does not see that the test was done, the parent can call to remind the child."
American owners of the smartphone will be able to have the test results sent directly to one of the company's many emergency call centers. Geva claims call centers in Israel are expected to be developed in the near future.
The Rehovot, Israel-based company expects to launch sales in Europe and Israel sometime in late 2013. The smartphones will be manufactured by TechFaith Wireless Communication Technology of China on the basis of Israeli specs and industrial design. The interface is to be available in Hebrew, English, Portuguese, Spanish, Italian, Russian, Chinese and Japanese.
"We will sell the device for between $500 and $700, depending on the country and individual carrier agreement," says Geva.
If the current smartphone's built-in capabilities do not meet an individual user's specific needs, it is possible to download any other appropriate apps to the device.
In the future, LifeWatch intends to make smartphones with additional incorporated sensors for greater functionality.
Photo: LifeWatch
Related posts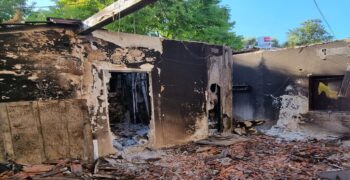 Israeli Hospitals Treating Burn Victims With Pineapple Protein
November 30, 2023