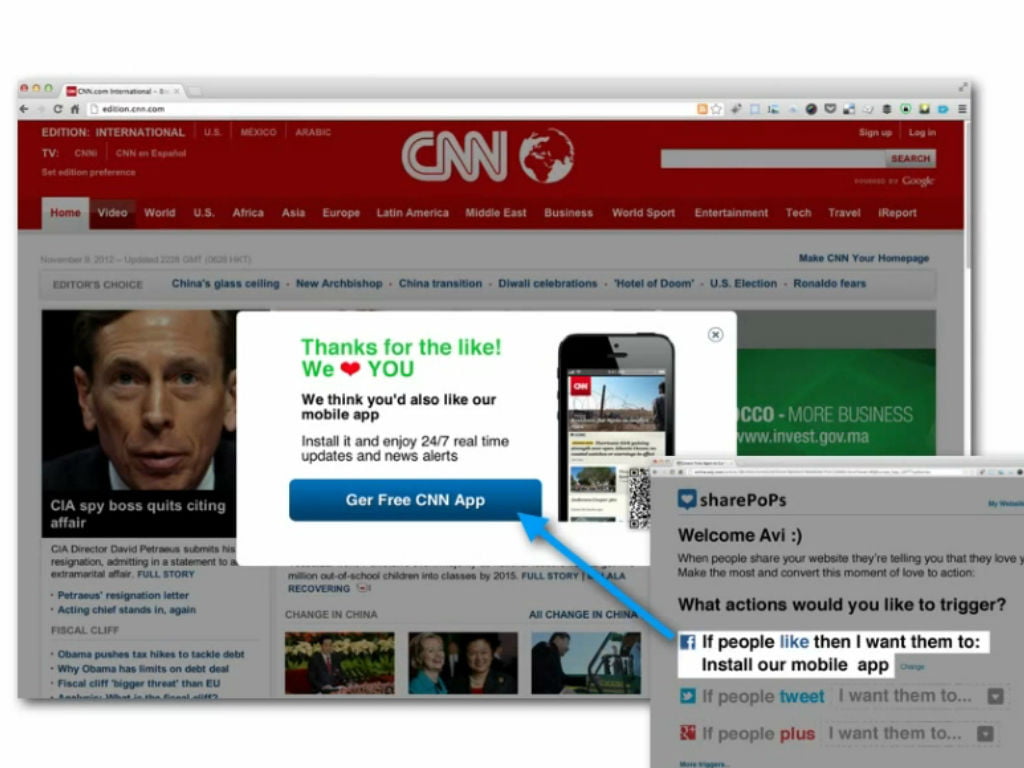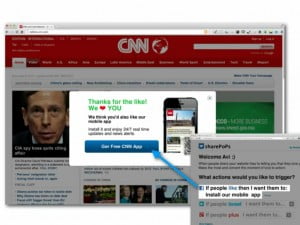 There are more than one billion users with the ability to "like" content on Facebook alone. If we also count tweets or "+1s" on Google +, we might be nearing 2,5 billion users with the ability to show their appreciation of online content. And yet, after that click, nothing happens. A sign of our gratitude is left floating in the web.
Israeli entrepreneurs Avi Charkham and Eran Sandler see this "love" we funnel into the web as an "untapped resource." That's why they created Sharepops, a website add-on that allows web creators to offer something in exchange for online dedication.
Related articles
As the Sharepops creators explain to NoCamels, when a site has a positive effect on us, we automatically share it on our feeds. By sharing content, we are proving how much we like it. And what do the publishers do with this love? According to Avi Charkham, "nothing, they don't even say thanks."
So what does Sharepops do to improve this? "Sharepops will, first of all, let content creators say thank you," Charkham tells NoCamels, "and then, convert this love into action." After hitting "like", Sharepops will open a popup window (or "pop") with a short message of gratitude and an offer to further interact with the site (by subscribing, getting related content, etc.).
Turning love into action
Eran Sandler and Avi Charkham are part of the expert team at the incubator LoolVentures, which has provided all the funding for Sharepops. They have both been professional hackers and code-typists since their teenage years. It was during the AngelHack Hackathon 2012 that their joint forces found a gap in the cyber-market and they founded  Sharepops, which won them a place in the finals.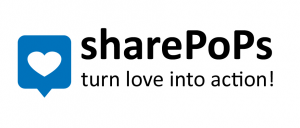 To avoid becoming "just another spamming platform," Charkham and Sandler took care not to annoy users by constantly interrupting their surfing. Instead, Sharepops will only open as a popup the first time you "like" a site's content. After that, the web will recognize you as a "popper" and will only slide the message subtly from the top of the page, "so as not to bug you."
If applied to a news Website (like NoCamels, for instance), after "liking" an article a "pop" would open offering you the possibility to join the newsfeed, suggesting related articles or inviting you to download the Web's smartphone app.
A human need to feel appreciated
Charkham, a natural storyteller, asked me to tell him "I love you." I did so and he responded with a blank stare. After a while it became uncomfortable and I started to fidget. He then asked me to say it again. This time he embraced me. Despite the awkwardness, he made his point: Human nature requires some kind of response to feel that our signs of appreciation are significant. And not only that, when somebody likes something we've done, we want to say thanks in return.
But Sharepops doesn't speak of love in the traditional sense: "this is not a 60's product,'" as Charkham phrased it. In the cyber-market, the feed is a key distribution tool. No matter how good your product is, if it isn't shared it won't be found. "We created Sharepops for a need. We, as developers, know how hard it is to get someone to share you. And love powers the Web."
Sign up for our free weekly newsletter
Subscribe
At the moment, Sharepops can't be used on smartphones. They "aren't focusing on that yet," but do keep the point in mind for when the product is more optimized. A very high percentage of people browse the Internet with mobiles nowadays, but Charkham claims that "there're still a lot of problems with sharing on mobiles. Just making the buttons work is complicated."
"What lies beyond the 'like' button?"
According to the founders, the lands Sharepops explore are currently uncharted. Charkham points out: "Nobody knows what lies beyond the "like"." Therefore, the hacker duo had to put their minds to the test in order to create a stable business model for Sharepops.
Their business model stands on two legs. The first: To offer a free and a premium account. Applying Sharepops for free on your Website will trigger a basic set of action pops. But, for 99 cents a month, the premium version includes a broader spectrum of actions. The second leg is a premium function called the "loveboard": An analytics service which shows your Web's popularity patterns, like how many users share it or how each "pop" is benefitting the site.
When they launch, though, at the AngelHack finals on January 24, they will probably offer most of the content for free for a few months. Sharepops has already closed a deal with an undisclosed content network with about 15 million monthly unique page views. This will give the creators an insight into what the product lacks and where it needs improving. All this before the official launch, in the aforementioned AngelHack finals round in Silicon Valley.
Representing Israel at the AngelHack Hackathon
Sharepops was conceived in the semifinals of AngelHack 2012, the largest hackathon in the world. In AngelHack, the competitors must create a product from scratch in thirty hours. "Not a pixel of Sharepops was created before the competition," says Charkham. The semifinals took place throughout the fall of 2012. Sandler and Charkham won the Tel Aviv leg of the competition in early November.
This year's Angel Hack will be the first competition of its kind made on a global scale. The finals will take place on January 24th, 2013, in Silicon Valley, until which time the 25 winners of the semifinals from around the world, will have to turn their hacks into finished products.
Sharepops is, therefore, already on the net. They have converted 20 percent of their site's shares into action. Anybody can write to them and apply Sharepops to their website. Sandler claims that every website can benefit from Sharepops: "The size of our market is the number of webpages out there."
Photo by afagen
Related posts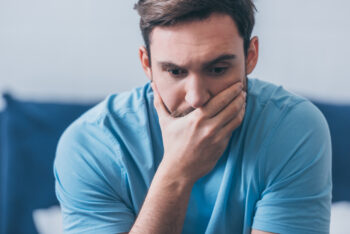 Programmer With A Stutter Creates Online Aid For Fellow Sufferers
September 21, 2023